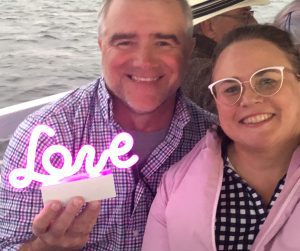 It's so much fun to share a link to a guest blog post, published by Revelation Wellness on May 8, 2023. The "Short List for a Long Marriage" was also included in the RW collection, "Resources for a Healthy & Whole Marriage," published on May 24.
It's been a journey, eh? I hope you enjoy reading as much as I did writing.
This grainy photo was snapped on a sunset dinner cruise in the Gulf of Mexico, February past. It was a small boat, with crew of two. We'd shared a humble dinner out of cardboard takeout containers. The evening was shrouded in gray, but at the last moment, as we turned for shore, the clouds parted on an orange orb hovering above the horizon.
I was grateful for the sunset; for a simple dinner, and that somebody else made it; for the opportunity to get out on the water; for the dolphin sightings. I was grateful it doesn't take much to have reason to be grateful these days. I assure you, I've not always been so easily satisfied.
I'm also grateful for a good man, who is long-suffering, too. It's taken the better part of forty years, but by God's grace, it seems we've found our groove.
Perhaps #7 to the Short List for a Long Marriage would be an attitude of gratitude. I'm sure you can add another few? I'd love to hear what hits your short list.
Sincerely,
Sondra