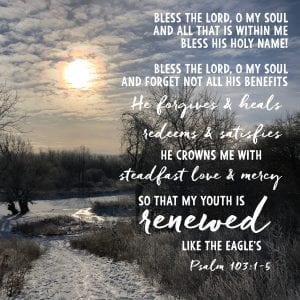 Do you have a word for this year? A word can help bring clarity and focus. It can spur growth and spark development. It helps identify what God would like to accomplish in and through us. Online quizzes, like this one, can help identify your word.
This year, however, my word chose me: renew.
I'm desperate for renewal, friend. I want to be renewed from the inside out — mind, body, heart and spirit. I'm all in on a deep cleaning.
Late in 2020, I began to consider this word, renew. At first, I was thinking of my renewal like a spa day — a pleasant but dimming memory. At the very least, then, a facial? Scrub off the old; the new shines through. Then I began thinking of it like a retreat. Slip off to unwind and meditate, clocks and devices silenced. A few days of solitude, no expectations beyond a still small voice on the whisper of waves. That sounds pretty great, right?
But the longer I sat with my word, the more I realized that pretty great was not good enough. I am hungering for something much deeper. A true transformation. My desire is to be made new again, as in re-new-ed. I had a strong suspicion that meant I had real work to do.
Scriptures attest to the work of renewal in body, mind, and spirit. Our strength is renewed (Isaiah 40:31). Our resolve to serve the Lord is renewed (Psalm 51:10). Sometimes God is working on our behalf in renewal (Isaiah 43:19; 2 Corinthians 4:16). Other times, as I suspected, we must exert effort in taking off the old and putting on the new (Colossians 3:5-10).
One of my favorite passages on renewal is Psalm 103:1-5. It is a beautiful testimony of our Heavenly Father's loving care to facilitate our renewal. He forgives. He heals. He redeems. He blesses. He satisfies. He goes to great lengths to care for us. It is His pleasure to renew us! Our effort to take off the old and put on the new pales by comparison.
Bless the Lord, O my soul,

and all that is within me,

bless his holy name!


Bless the Lord, O my soul,

and forget not all his benefits,
who forgives all your iniquity,
who heals all your diseases,
who redeems your life from the pit,
who crowns you with steadfast love and mercy,


who satisfies you with good

so that your youth is renewed like the eagle's.
Psalm 103:1-5
I'm overwhelmed with gratitude for the faithfulness of God. He never fails to provide what we need, sometimes before we know we need it. Over the past few weeks, opportunities custom-designed to facilitate my renewal surfaced. Each was a stretch and required risk — to which I am typically adverse. But I did mention I am quite desperate, eh? As such, I was compelled to jump in.
I'm delighted to report the renewal train has left the Sondra station.
For a few weeks, I've been acclimating to new roles and responsibilities, including within my writing community at COMPEL Training. In a week or so, Revelation Wellness Instructor Training will begin. This is my biggest personal risk in a long time. (If you know me, you know the extent of this challenge!) Then in March, the Hubs and I will embark on our first assignment for SOWERs. We are both so excited for to begin this journey of service in a community of faith by RV.
In tandem, this is a lot to take on the first quarter of the year. And yet, I have great peace and assurance that it will all work out. That's because my faith is not in myself but in my Creator, He is the only One with power to re-new what He started. He who began the good work in me  — and in you — will surely complete it (Philippians 1:6). His promises are true — for me and for you!
Perhaps you don't feel close to God today. I assure you, friend, He is not far. He is not hiding. He loves to draw near. His Word reinforces time and again that when we seek Him, we will find Him.*  His provisions, as Psalm 103 testifies, are so much greater than our effort!
Here's to an amazing new year of renewal. Let us faith-journey on together.
Sincerely,
Sondra
*Deuteronomy 4:29; 1 Chronicles 28:9, 2 Chronicles 6:38, Proverbs 8:17; Jeremiah 29:13; Matthew 7:7; Luke 11:9; Acts 17:24-28 Hebrews 11:6 all speak to this truth!