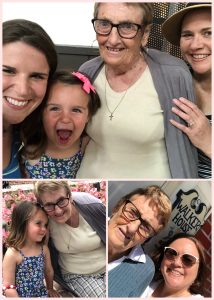 My beloved Aunt Bea went home to heaven yesterday. We grieve her passing deeply.
She fought so hard to recover. She overcame many complications. All along, I believed she would pull through; she'd stay awhile. I was wrong. My heart is broken.
My aunt had a beautiful outlook on life. So much positive energy, rooted in faith. I often imagined her a centenarian. I never imagined we wouldn't see her again, come February. I'm struggling to comprehend, to fully accept, that she is truly gone. Even so, the faith we shared is a deep well of hope.
My aunt was my closest spiritual mentor for 35 years, and like a mother to me. My husband and children adored her. One grandgirl bears her name and inherited her beautiful blue eyes.
Her impact on our entire extended family is profound — my sisters, my cousins, their children. Her legacy is rich in kingdom-treasure.
I wasn't ready to let her go. Nobody was. But so many people were praying, people of faith and confidence in Christ, that it gives me great comfort.
As much as I anticipated a different outcome, I know her passing wasn't happenstance. This was her appointed time. God called her home.
We do not grieve as those without hope. (1 Thessalonians 4:13)
Why now? I don't know. We can't know, yet. But I trust it was God's kindness and mercy, perhaps to spare or protect her. Because she was His beloved, long before we knew and loved her. His love runs much deeper, and wider, than we can fathom.
For this reason I bow my knees before the Father… that according to the riches of his glory he may grant you to be strengthened with power through his Spirit…so that Christ may dwell in your hearts through faith—that you, being rooted and grounded in love, may have strength to comprehend with all the saints what is the breadth and length and height and depth, and to know the love of Christ that surpasses knowledge, that you may be filled with all the fullness of God. (Ephesians 3:14-19 ESV)
My aunt ran her race well, to the very last breath. She ran for the prize, her eyes fixed on Jesus. I'm convinced, once she caught a glimpse of glory, she didn't look back.**
I can imagine her welcome party, and it brings a smile. Her son, Tom, would be there, for sure, and many of the "old ladies" to whom she's ministered. Oh, for a glimpse from this side of the joy she knows now in the presence of her God and King!
My heart aches deeply for the excruciating pain her immediate family suffers. They all loved her dearly and deeply. Pray for them, please.
I have been thinking about how Jesus wept on confronting his friend, Lazarus's, death (John 11). Jesus knew it was temporary. He was on a rescue mission. He would soon defeat death, for each and all. But first, He would bring Lazarus back to life. Because He could.
Jesus relieved Mary and Martha's grief in a timeless teachable moment, displaying the limitless power and unfathomable love of God. Even so, their pain of separation, their present reality of death, cut so deep: Jesus wept.
One word describes my aunt better than any other: Beloved. Everyone who knew her couldn't help but love her. Most of all, she was beloved by God, and she knew it. She lived it. Belovedness changes everything.
The afternoon she crossed over, I prayed and pleaded for a miracle, for more time. When "Goodness of God" surfaced on my playlist, I considered the words in light of her life.
*I love Your voice
You have led me through the fire
In the darkest night
You are close like no other
I've known You as a Father
I've known You as a Friend
And I have lived in the goodness of God  

And all my life You have been faithful  
And all my life You have been so, so good
With every breath that I am able
Oh, I will sing of the goodness of God *
i knew she would agree. God is endlessly good, and always faithful, Even now; especially now, on the threshold of heaven, on the verge of obtaining her reward. It was my great honor to sing her home.
My beloved aunt has died, my heart is crushed, but my hope is alive and well in Christ. I know in my deepest place of knowing that this pain is temporary, as is our parting.  One fine day, I hope you meet her. It'd be my great pleasure to introduce you..
… Now to him who is able to do far more abundantly than all that we ask or think, according to the power at work within us, to him be glory in the church and in Christ Jesus throughout all generations, forever and ever. Amen. (Ephesians 3:20-21 ESV)
Sincerely,
Sondra
**1 Corinthians 9:24; Philippians 3:14; Hebrews 12:1-3
*Source: Musixmatch
Songwriters: Jason Ingram / Ed Cash / Brian Mark Johnson / Jenn Louise Johnson / Ben David Fielding
Goodness of God lyrics © So Essential Tunes, Capitol Cmg Paragon, Bethel Music Publishing, Shout! Music Publishing Australia