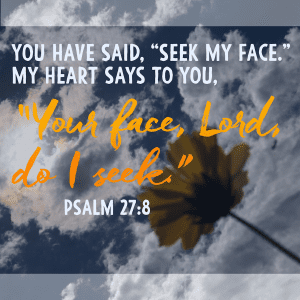 Summer evenings in the North Country linger long. As a kid, it seemed dusk took forever to settle into dark, near 9:00 p.m. That's when the fireworks start on Fourth of July. Mostly, we found amusement in simple things.
Sometimes we'd make a game of scooping lightning bugs from tall grass to create nightlights. It's tricky, tracking down a blinking beetle for bioluminescent comfort in a jar, through the dark of night. Later, we'd set them free. Preferably, not inside, eh? Looking at you, sister… ;=)
Once in awhile, we'd launch into Ghost in the Graveyard, a reverse on hide-and-seek. Stumbling, fumbling and searching in the dark made me anxious, but I played along. Because who wants to be called a scaredy-cat? Plus, summer is short and too good to waste!
Seeking and finding have been on my mind this week, walking the words of Jesus with @RevelationWellness. Daily meditations focus on just a few words Jesus spoke, in one exchange or another. Words we might tend to gloss over, otherwise.
I'm leaning in, so as not to miss a thing. What do these words say about God? What is God saying to me?
Speak Lord, I'm listening.
Background noises and demands of life drop away. This is intimate, sacred space: just me and Jesus. On that first day, I heard a quiet call. "Seek my face."
A visual surfaced; a snapshot in time. I was a young mother, nursing our infant. I sang over her, admiring every feature; precious and perfect. We locked eyes; she searched my face. Her inky depths held wondrous secrets. I sensed she knew me deeply, not long from my womb.
Then I became distracted. Maybe her big brother was headed toward mischief. News flashed on the TV. A car pulled into the driveway. The phone rang. Distracted, I broke my gaze. Instinctively, she reached her small hand to my face. Gently, she pressed my chin, drawing me back to her again.
This, I think, is the essence of the call to "Seek my face."  It's as if God's hand cradles my face, turns my head, and gently draws me back to him.
My heart says to you, "Your face, Lord, do I seek." Psalm 27:8
It's not like I can actually see God's face, eh? No one can, this side of glory. Even Moses was warned by threat of death from trying to sneak a peek (Exodus 33). But still, we draw near. I want to get close enough to feel the warmth of His breath in His words as they settle in my spirit.
It strains my brain, to be honest, how God flips the script on hide-and-seek. To think the God of all creation is always available, waiting patiently.
He is not distracted; I am.
He hasn't moved; I have.
He is delighted to see me, every time.
I drink Him in, like a wildflower, full-faced toward the sun.
It seems so simple, and yet profound: God wants to be found. He hides in plain sight.
You will seek me and find me, when you seek me with all your heart.

Jeremiah 29:13
He bestows all manner of blessings on those who pursue Him. Our hearts are made joyful (1 Chronicles 16:10; Psalm 105:3). He comes to our rescue. He bestows rest and provides peace (2 Chronicles 15). We know truth and learn justice (Isaiah 45:19; Proverbs 28:5). We are made righteous, and protected (Isaiah 51:1; Zephaniah 2:3). We know His favor and extend it to others (Zechariah 8).
Routinely, Jesus stepped away from clamoring crowds and their urgent needs. He left his closest friends and followers in the dust, retreating for solace with God. The Word of God in the flesh, the perfect Wisdom of God, sought intimacy with His Father. To align His Son-heart with His Father's heart, He sought God's face.
What does that say to us? With all of the static and noise, the incessant swirl of chaos, crazy spinning out of control across the globe … I can't even!
Perhaps you're battered and bruised by indignities suffered on this broken planet. You might wonder what seeking God's face could possibly do for you, with all of the troubles you're facing. Lean in, and soak in, this Good News.
Isaiah 61: The Year of the Lord's Favor

1 The Spirit of the Lord God is upon me,
because the Lord has anointed me
to bring good news to the poor;
he has sent me to bind up the brokenhearted,
to proclaim liberty to the captives,
and the opening of the prison to those who are bound;

2 to proclaim the year of the Lord's favor,
and the day of vengeance of our God;
to comfort all who mourn;

3 to grant to those who mourn in Zion—
to give them a beautiful headdress instead of ashes,
the oil of gladness instead of mourning,
the garment of praise instead of a faint spirit;
that they may be called oaks of righteousness,
the planting of the Lord, that he may be glorified.
Healing for the hurting, freedom for captives, beauty for ashes, gladness for mourning, strength and dignity; a garment of praise! So. Much. Good. News.
This is what God's favor looks like, for those who seek Him and place their trust in Him. This is what Jesus looks like, the fulfillment of the promise (Matthew 5). This is why we walk with Him, follow Him, seek HIs face.
Walking the Words of Jesus, 21 days of walking-prayer, is one of several marvelous open invitations from Revelation Wellness to seek God's face, every step at the pace of grace. Content is yours to keep. In fact, after this one completes, I'm rebooting another from last spring, Songs of Ascent.  :=)  I'm starting on July 11. Join me!
Come away, friend, to where healing begins.
Sincerely,
Sondra