People often ask about the SOWER Ministry through which we volunteer. Their first question, typically: What do you do?* 
The Hubs and I are newbies (a memorable first in 2021) but the two couples filling out our team have served 100 projects or more, collectively. They assure what we've surmised holds true: (A) Every project is different. (B) The same project is different, every time.
In short, we do what needs doing. SOWERS serve behind the scenes to support ministry leaders and staff in their mission. This, of course, differs by project. So we're asking that question ourselves, as we settle in. Now past the half-way point on our project at The Cove, we know. ;=)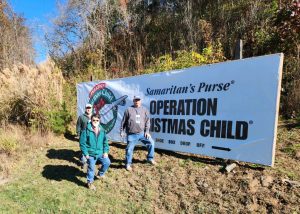 Last week, the guys worked inside the shop, cleaning and painting a pile of slate tiles destined for replacement roofing. One afternoon, they joined a large sign set -up crew. As the weather has warmed, they're staining exterior decking in the Hemlock grove.
Meanwhile, ladies have supported staff on laundry services, program printing, and preparing table service for the dining room. Last week, I mostly worked on IT inventory. Next week — woo-hoo! — I'm assigned to Operation Christmas Child.
This will be a treat, knowing how joyfully these boxes of hope are received, once per child per lifetime, around the world. As I write, only five days remain to pack a shoebox, in person or online. Don't miss out!
Project hosts show appreciation to volunteers in differing ways, too. At the Cove, we have a standing invitation to join staff devotions and corporate prayer, an incredible blessing to our team. We've appreciated other perks, like access to complimentary seminars, miles of hiking trails, a comfortable RV site, a beautiful campus with glorious mountainside views. Plenty of wildlife, including several bear sightings! (i'm on a bear quest … at safe distance. :=)
Beyond work, we do life. SOWERS form a small community on site. We find opportunities beyond work to get to know our neighbors. This project, we visited the Billy Graham Library with one couple and attended dinner and a Rhett Walker concert on site with the other.** SOWERS love game nights, potlucks, BBQs, field trips, and crafting. We share recipes and rides to the market. If there's a pickle ball court, we'll find it. For a month at a time, we enjoy sweet SOWER community.
Last but not least: we adventure! We fully utilize three-day weekends embedded in the SOWER work schedule. Our Smart Car a.k.a. "BettyB00" loves the Blue Ridge Parkway, too!
On this project, we've explored downtown Asheville, with its friendly, artsy vibe, and small towns with big charm like Black Mountain. We've found our sweet spot Sunday mornings at Biltmore Church, East Asheville. We've sampled farmer's markets, antique shops, local artisans, and eateries.
We never know where the journey will take us, eh? Last weekend, we wound our way through totally cool middle-of-nowhere towns via Bryson City to Nantahala, NC, where we were to meet-up with dear friends. On return, we discovered the Oconaluftee Visitor Center of GSM National Park near by, and routed through Cherokee for an unplanned stop. This was the one VC we'd missed on an earlier visit; I was glad to check that box. :=)
The sweetest moment of the day occurred suspended above the Nantahala River. Following a yummy lunch at River's End (try the smoked trout chowder), we'd walked out on the bridge for a group photo. Just then, a kayaker slid by, expertly navigating a series of slalom poles strung in tight succession. We marveled at the intensity of the course and skill required.
Then, rising above the rush of the river, we heard the familiar cadence of a wedding in progress. Turning, we realized we'd trudged past a wedding on the bridge overlook. (Five participants, in total, it wasn't all that obvious.) As they spoke vows, I couldn't help but wonder at the synchronicity of these two events.
Our journey over decades looks a lot like that zig-zag course — so many twists, turns, and narrow escapes. Not to mention an especially inauspicious start, out of the gate, eh? Few could've expected us to finish well, and we don't blame them. And yet here we are, immersed in the sweetest season, yet.
And he is before all things, and in him all things hold together. Colossians 1:17
God is so good and faithful. All glory to the eternal Source of Life, Light, and Love, for keeping us. Aren't we all grateful He holds all things together!
Next weekend, we'll celebrate 41 years married with Christmas at the Biltmore. Sixty-seven Christmas trees inside the residence? Come on!
Ironically, we put our own Christmas tree up October 22 — before leaving home. So, yeah. Bring it, Biltmore!
~ Sincerely, Sondra
*Most project hosts differentiate male and female work assignments. Admittedly, that seemed odd to me, but tends to work out quite nicely.
** We purchased concert and dinner tix in advance. Most Cove events are open to the public; many sell out this small venue. P.S. Props to Rhett Walker for our 2023 grand-camping theme song, Family is Family — enjoy it here!