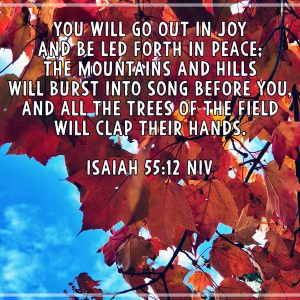 Driving 81S this week, the landscape is a canvas of autumn hues. Honey golds, bold oranges, fiery reds, splashed across valleys, splattered on endless ridges, scrambling up each peak; bright brushstrokes of delight.
In Acts 14, Paul says the seasons are an enduring witness to a living God. Through the ebb and flow, year in and out, God shows his kindness. By His hand, the seasons bear fruit and serve up joy.
Yet he did not leave himself without witness, for he did good by giving you rains from heaven and fruitful seasons, satisfying your hearts with food and gladness. Acts 14:17
Paul was referring to the natural seasons, those spoken into rhythm by our Creator.* However, life-seasons also testify. As Timothy says, God is faithful, even when we are not.* Surveying the decades of my own life, I'm deeply humbled by this truth.
Seasons change, as they must, to fulfill their purpose. Aren't we grateful for a time stamp on a difficult life-season? This, too, will pass. Our job is to stay the course, to see God's plan for good success fulfilled.*
Hoping in a faithful God is the only hope that doesn't disappoint or put us to shame. (Romans 5:5)
Every season bears opportunity to press into the high calling.*
Winter can be dark, lonely, and desolate. Short days with long nights. It's grieving or healing; perhaps housebound, or waylaid. It's a prayer-rich season. Lying low, resting and waiting, in dormancy. God alone holds power to breathe new life.
But even in winter, there's good news. In the North Country, piercing cold means brilliant sunlight with exquisite clarity. The snowscape sparkles like diamonds flung with abandon. Wintering with the Lord is never hopeless!
Winter season strategy: Soak in the sunshine of God's presence. Put on your Gospel goggles to see beyond the present darkness. Feed your soul on the Word in the wait. 
Spring is exciting, dramatic change, a season of fresh growth. It's stepping into a new challenge or role, adjusting to new normal at home; often messy or unsettling. It's sowing into others in sacrificial service or planting seeds of faith. In the North Country, spring is mud season. For all the beauty of blooms and birdsong, there's serious slogging to be done!
Spring season strategy: Push past self-doubt in doing new and hard things. Search the Word for His promises. Stand in faith. He who promised is able.
Summer is invigorating, a season of continued growth. It's gaining ground on big goals, grateful for long days. Summer is a good run! However, there is a tendency for striving, relying on our own strength, pushing through. As heat beats down, summer can become wearying.
Summer season strategy: Be deliberate in seeking the Lord. Lean on His strength; rely on His wisdom for understanding. Maintain Sabbath rest; invite the Spirit to fall like rain on your soul. 
Autumn is a glorious celebration! Satisfaction in the harvest; the fruition of efforts. This season is near perfection, yet bittersweet with awareness of winding down. In the North Country, the underbrush grays out, field grasses and wildflowers go to seed. Even so, autumn parties on. The trees clap with abandon! The hills sing, cloaked in glory!
Autumn season strategy: Celebrate the goodness of God in the land of the living. We know winter's coming, but not today, friend. Today, we clap, we sing!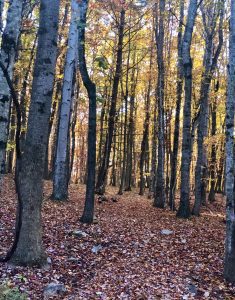 Do you recognize yourself in a particular season? I'm amped by autumn, with a compelling urge to dance and clap among those glorious trees!
Even so, my body reminds me daily: winter's coming. To which I say: faith over fear! My hope rests on a firm foundation.
I'm grateful for God's order and timing in all things. Even in autumn, I'm sowing and growing. No surprise, eh? Fall is the appointed planting season for some crops. As the psalmist notes, a tree firmly rooted by the stream will grow and flourish in every season.* By God's grace, I will be that tree.
In months ahead, I (we) have planned several service ministry opportunities, God willing. As I write, we're traveling south for a SOWER RV ministry assignment at the Billy Graham Training Center at the Cove (NC). In December, I'll serve on a ministry team in Honduras. In February and March, we're back on the SOWER circuit with two projects in Florida. I'd love to bring you along! Subscribe on this page to receive posts direct to inbox to read at your leisure.
Onward, friends, at the pace of grace.
Sincerely,
Sondra
*Scripture References*
Genesis 1:11-19
2 Timothy 2:13
Joshua 1:7
Philippians 3:12-14
Proverbs 3:5-6
Psalm 1:1-3